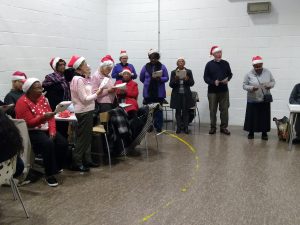 Our outreach to the community takes us to our local nursery (Toadhall Children Day Nursery); our local school (Foxborough Primary School), college (East Berkshire College) and Slough Mencap by being a presence, supporting and building relationships. See our photo gallery for pictures of our visit to Slough Mencap.  For more photos of the Carol Singing go to:  https://photos.app.goo.gl/Qje0uIJcqO2RsCO33
'Needles and a Yarn'
This knitting group, held every fortnight and attended by a diverse group of people from all over Langley, is an important form of outreach: they make things – from baby clothes to toys to blankets – for charities, while also having fun, tea, speakers, songs and prayers.
Mission and Social Actions 
Christ the Worker organises some social events attended by people from the neighbourhood as well as members of the other congregations; they also take part in and help out the other districts in their social activities. Of recent, we had Cream Tea which was well attended and enjoyed by all who came. Everyone in the community and beyond are welcome to come along.
The congregation plays an active role in the Parish's outreach activities such as hosting the
Night Shelter for homeless people once a week during the winter months,
the Harvest Celebration in the Park,
the Good Friday Walk and
the Remembrance Day Parade.
The Women's World Day of Prayer was originally marked by services at Christ the Worker.
We support many missions & organisations both in our local area and around the world – such as
Premature Baby Unit at Wexham Hospital;
Alexander Divine Children Hospice;
Glowing Life (an Orphanage in Thailand),
'Aquabox' (relief support to war torn areas)
and many others. We feel as a church that it is important to be the heart, hands and feet of God wherever we go and to support others who do the same.