From Becky Clarke:  Following medical advice, Becky has withdrawn from the Slough Half Marathon.  Please contact her by text or call on 07704 463107 to discuss your preference regarding donations. 
Shoe Boxes: This year's organiser of the Shoe Box Appeal is Christine Beynon–for more information, contact Christine on 01753 541732.  Return completed boxes to any of the churches by 28th October
Langley Community Coffee Shop Needs Your Help!  The 
Coffee Shop has met on Tuesday mornings at the Library in Trelawney Avenue for the last ten years, supported by many faithful volunteers. This is important outreach work, where the lonely and vulnerable can find friendship and support. But our teams are getting rather small and we need new people to help. Can you spare a couple of hours, once a month, to sustain this worthwhile activity? Please contact Rev Robin Grayson on 01753 542068 or via r.j.grayson@btinternet.com. Or, just turn up at the Library from 10 am on a Tuesday morning, to see what is going on.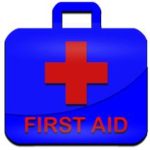 First Aid Course: Saturday, 17th November at St. Francis, 9.00 am to 3.00 pm—First Aid Training session.  We need a minimum of 6 takers, to make the session viable; there are 12 places available, and any spares will be offered to other parishes.  Please email Clare Clark at clare.c.clark@btinternet.com to indicate your availability.
Fair Trade: Very sadly Traidcraft may stop trading by year's end; largely affected by the fall of the pound and uncertainty due to Brexit. Please make a point of supporting them this Christmas. Catalogues available in all churches. The Real Advent Calendar is only £3.60 this year. To order, call Juliet on 542068.
The Giving Committee: will be meeting 23rd October and would welcome suggestions of charities that we could consider donating to, and the reasons why. Please contact Josephine Hanney—572705 (St. Mary's) , Elisabeth Howell—542745 (St. Francis) or Lynne Harris—545737 (Christ the Worker).