Following discussions, prayer and consultation with the whole congregation, St Mary's agreed to adopt the symbol of a Cross with the words Nurture, Serve, Engage and Welcome at the four Compass points, to express our sense of what God is calling is to be and to do.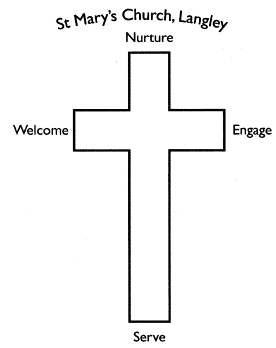 Over the last few years we have looked at each of these four 'dimensions' in turn, to see whether we are doing all we should in each one. We looked at how we Nurture our faith and spiritual life, and then how we Engage with our community and the wider world, and Serve those in any kind of need. We want to see how all of these aspects can be lived out in everyday life, not just in the life of the church.
A key area for us is the Welcome dimension. We seem to do quite a good job at an initial welcome for newcomers, but we need to work at deepening that welcome, so that people become fully involved and connected with the congregation. Our welcome must extend beyond Sunday worship to social events, activities and personal friendships. We need to ensure that we welcome fully the 'old hands' as well as those who are new, and the welcome we extend to our children is vital too.
We have been working to develop our Vision into a Mission Action Plan, with specific priorities that will enable us to deliver our Vision more fully over the next few years.
Follow this link to see our Mission Action Plan for 2015.
Key areas for us to focus on are:
our prayer life, both individually and together
our work with children and young people
the welcome we offer in a changing congregation
our giving to the work of the church
our involvement in community organisations
our engagement with the community through our church building and graveyard