Kedermister Library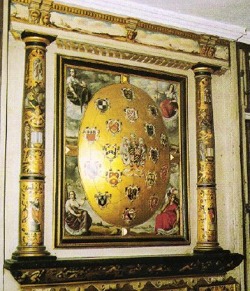 The Library was founded before 1631, by Sir John Kedermister, for the benefit of "Ministers of the said town of Langley and such other of the County of Buckingham as resort thereto".
For more information about the Library, please take the Tour of St. Mary's.
Click here for 3D views of the Library and the Kedermister Pew.
Visiting the Church & Kedermister Library
The Library was reopened in 2012 after extensive restoration work. View the stages of the restoration by following this link.
The Kedermister Pew has recently been restored and will soon be reinstated and open to the public again.
The Kedermister Library will be open to visitors on the first Sunday of the Summer months (May to September) from 2.30pm to 5.00pm.
Dates for 2015: 1 May, 5 June, 3 July, 7 August, 4 September
Visits can normally be arranged at other times by emailing our Honorary Librarian.
For the time being please contact instead Rev Robin Grayson.
For such visits we suggest a minimum donation of £5 per head, to cover the costs of the Library.