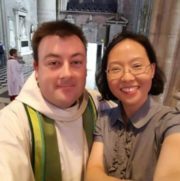 Our New Rector:  We are delighted to announce that Revd Chris Ferris has accepted our offer.  He comes to us with experience as a Rector of a large parish in St Albans Diocese.  He is expected to move into the Rectory sometime in August.  Bishop Alan will license him in a service to be held on 1st September at  7.30 pm.  Please pray for Chris and his family as they prepare to join us.
URGENT HELP REQUIRED:  Thursday, 5th August, St. Mary's Rectory—Moving In—The Rev. Chris Ferris and family move into the Rectory on 5th August.  We have been asked if some people can help with the unpacking on the day.  Late morning onwards would be helpful.  We have a few volunteers already, but offers from more, especially two or three strong people would be most appreciated.  Please contact Anna 01753 822 013 if you can help.
Fair Trade:  You can order your favourite products or a product catalogue from Diana Iller who is our Fair Trade liaison.  Phone:  07948 270068  Email:  Diana.iller@gmail.com
Keeping in Touch:  Please keep watching the Parish website and Facebook page for resources and current events.  The July/August 2021 issue of Around Langley is available now, and maybe accessed on  http://langleymarish.com/around-langley.  Spare copies of Around Langley may be obtained from Anna Thomas-Betts 01753 822013.
Volunteers Needed:  Do you have a couple of hours to be a part of the cleaning team at St. Mary's?  Brooms, dusters and polish provided. Ring Josephine Hanney's correct mobile number is 07811 834155 or ring Sheila Schmidt on 01753 585647.  Your time and effort would be greatly appreciated.
_____________
Holiday at Home
Wednesday, 4th August & Thursday, 5th August:
St. Francis Church 10.00 a.m. to 3:00 p.m.
Cost Per Person—£5
This year we are holding a simplified version of Holiday at Home. There will be the usual craft activities, indoor games, entertainment and fish/chicken and chips lunch. This year instead of each day being different, the same or similar programme will take place on both days. In the interest of keeping everyone as safe as possible, keeping numbers manageable, and continuing to observe social distancing, people should attend on only one of the two days of Holiday at Home . There are more places on Thursday 5th August than 4th August which is nearly full.
To register please contact Bill and Barbara Birmingham on 01753 548646 or e[1]mail them at billbirmingham@gmail.com. For catering purposes, please register, if possible, by Monday, 2nd August. Please provide the following information:
Name(s)
Phone number or email address
Which day you want to attend.
Your preference for a Fish or Chicken dinner